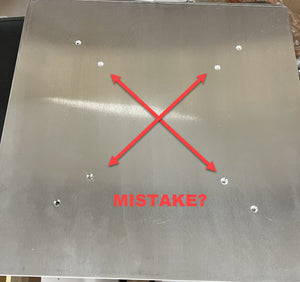 Here's what's Happening at Ender Extender this week
Today is Wednesday, April 6, 2022
This week has been a bit stressful.  The headaches started actually a couple of weeks ago.  Our sole vendor for the laser cut aluminum sheets that we use on all of our products had a material shortage which caused them to miss a shipment.  Upon my urgent and frantic inquiries, they agreed to ship a partial shipment of 31 plates, which we promptly received, packed and shipped to customers.  We expected the remainder of the order to be processed shortly thereafter.  Well, that didn't happen.  
A week or so goes by, and we finally get shipment notification that the parts were en route and expected Monday, 4/4/2022.  We received them and anxiously unpacked the crate.  During our inspection process we place them on a calibrated granite surface, and use a calibrated machined straight edge to check for flatness.  It's well understood in the materials and fabrication industry that this aluminum sheet material has no guarantee of flatness, but most of the time the material is sufficiently flat that either the glass sheet that we print on, or with the aide of a bed leveling device such as the EZAbl by TH3D or BLTouch, that the minute variances in flatness will not be detrimental to the 3D printer's operation.
We were so disappointed this time.  So much so that were forced to sacrifice our CR10/Ender 3 Max plates that already had holes for the wider pattern that those printers use, and we drilled additional holes for the Ender 3 pattern. So what does this mean?  Some customers will get lucky and have a special edition, universal top plate that could be used on the standard Ender 3 carriage plate, or a CR10 carriage plate. 
It might look goofy at first, but the holes will not negatively impact the normal operation or installation.  If I were to be the ultimate optimist, I would say that out of this problem came a solution to another problem we didn't even know we had..  Some users will eventually want to upgrade to a CR10 carriage plate that has 6 wheels for added stability. Thus, they would need the extra holes anyway.
So, what do you think, should we start including the dual hole patterns in all of our plates?   
---